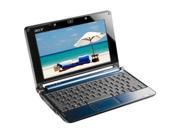 Newegg has finally updated their prices on the Acer aspire one, much to my dismay. It will be quite some time before I will have te funds to make the little guy mine. I have been hearing a lot of bad feedback about the machine which i believe comes from two sources.
1. The difficulty of upgrading the ram.
This is no problem for me, 'nuff said.
2. Acer's reputation for using lower end parts.
I have yet to see this machine in the plasticy flesh, but I'm sure it won't be that cheap, material-wise.
Anyhoo, jump over to the newegg site to check out the little monster in all of its Atom powered glory.
Newegg Acer Aspire One